In marriage and premarital counseling when discussing couple differences, I will sometimes do this simple demonstration.
I will hold my hand out palm to the groom and bride and ask them to describe it. I then describe my hand from my viewpoint.
Our descriptions vary slightly, so I ask which one of us is right. Of course, we are both right, we're just looking at the same hand from different perspectives.
One of the benefits of listening to our partner is that it helps us see things from their perspective.
Listening means more than not talking. True listening that contributes to healthy marriages means listening in order to understand, and appreciate the viewpoints your partner has and understanding why they feel the way they do.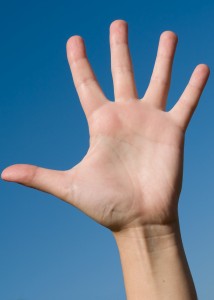 The Exercise:
Here are some questions and topics you can discuss and make sure to "hear out" your partner:
Is there a subject you've been discussing or arguing about where there is no right or wrong?
Do you think remembering the hand demonstration could help in a marriage?
How have you handled differences to this point in your relationship? Is it working well for you both?
How do you understand the difference between acceptance and agreement?
Other than the obvious biological differences between men and women, list and talk about the differences between men and women that you see in various areas.
Examples:

Friendships outside of marriage

How to solve problems

Meaning of love

Sex

Shopping

Children

Physical attractiveness

Men and women brain differences – I'd love to be the fly on the wall to hear this discussion!
What are some other reasons beside the male and female differences that you may have different viewpoints on things?
Examples:

Personality and individual differences

Family of origin differences
In general, can you think of any areas of difference a couple might have that would be a "deal-breaker" for you?