Couples who complete 4 hours of a marriage preparation course from approved providers within one year of their marriage date can receive a notarized completion certificate from the course provider which allows them an exemption of a $60 fee on the  Tennessee marriage license.  The usual fee for a Tennessee marriage license  is approximately $100 – it varies slightly by county. With the completion certificate in hand when you go to the clerk's office, the license will cost you about $40. If you would like further official governmental information, visit most any TN county clerk's website, like this one.
As a minister, I am approved to offer a marriage preparation course and the completion certificate.
(If you need an officiant for your Nashville area wedding, visit my website here).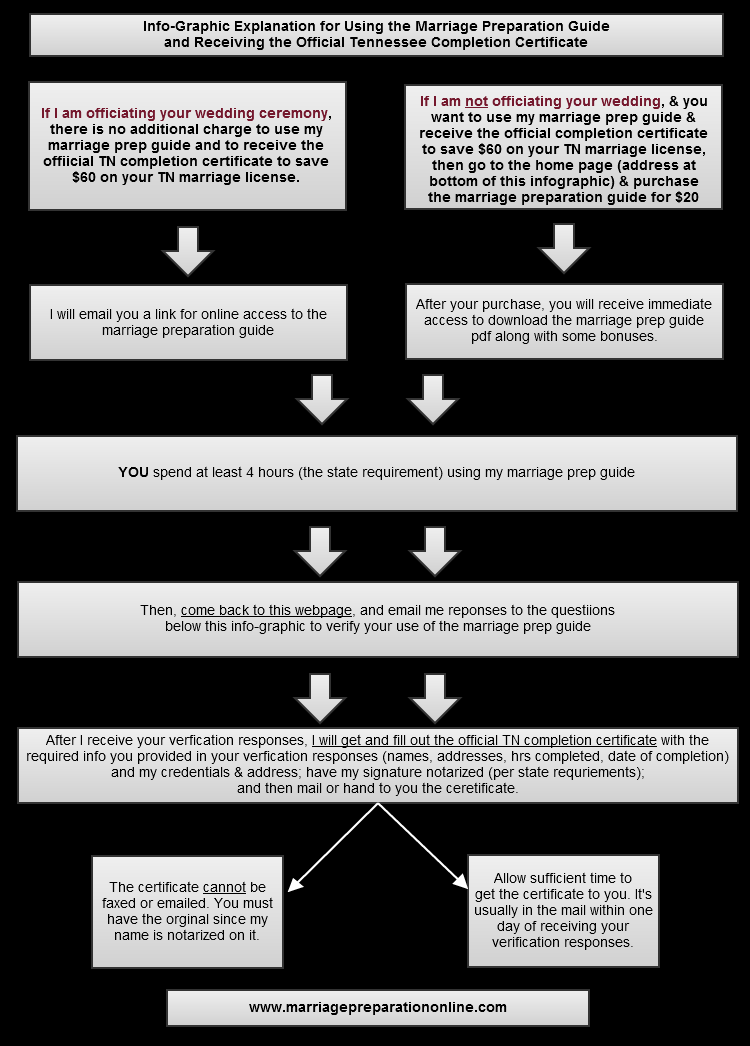 All couples wanting to receive the official TN completion certificate
must send me the "verification responses"  below
Copy and paste the following questions into an email and send to me at ralph (dot) griggs (at) gmail (dot) com
Verification Responses for Completion Certificate
Required Information:
Bride's Name and Address:
Groom's Name and Address:
What we learned about us and/or marriage:
He Said:
She Said:
What I learned about me:
He said:
She said:
Number of hours completed in the course:
Date course completed:
USPS mailing address where you want me to mail the completion certificate:
Optional Responses:
What else we'd like to see in the course:
How this course helped us:
Find information for getting your Tennessee marriage license here.