Respect for each other is very important for a healthy relationship.
One way of showing respect is by valuing the differences between us.
Part of that is recognizing that there are different types of intelligence.
I was getting a battery replaced in my car the other day and the young girl that was putting the battery in my car told me that her dad was very book-smart. He could write a book and tell you how to disassemble a car engine and then put it back together again.
But he couldn't actually do it. She could!
Again, there are many kinds of "smarts." Some are socially intelligent. They have a natural ability to relate well to others.
Other people may not be so good in social settings, but can logically identify a problem, come up with solutions and solve the problem.
Our vocations differ. Over a period of time we acquire knowledge and develop skills that others do not have.
Take time to listen to and learn from each other.

Your significant other will feel valued and respected.
The Exercise:
What is something each of you knows a lot about that the other knows little about.
What are your unique gifts and abilities?
What do you see as your partner's unique gifts and abilities?
Teach each other something. Yes, actually identify something that you know how to do that you can teach your partner to do.
Do you feel respected and/or admired by your partner? Can you think of a time when your partner made you feel that way?
Resources: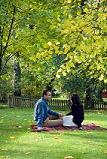 Respect may be especially important for wives to show their husbands. That is, it's a big guy-need.
So would Dr. Emerson Eggerichs argue in his book Love & Respect: The Love She Most Desires; The Respect He Desperately Needs. Men need to feel valued and appreciated for what they do, and things like nagging and complaining destroy feelings of respect.
Of course, husbands can make it easier for their wives to show admiration by doing things worthy of it. And there are times when a wife will need to "complain."
In the Seven Principles for Making Marriage Work, John Gottman discusses the difference between complaining, criticizing and contempt. The last two are hazardous to relationships, while the first one is sometimes necessary.
It's the old adage of it's not what you say, but how you say it.
You may want to get Gottman's book to learn more about how to complain in a way that doesn't damage your marriage. It's available in paperback, is pretty cheap and is one of my favorite marriage books to recommend to couples in face to face premarital preparation.
Another resource on the importance of showing respect to husbands is by Willard F. Harley, Jr. and is titled His Needs, Her Needs: Building and Affair Proof Marriage. He calls it admiration – that is, he needs her to be proud of him.
Harley suggests that the cause of marital affairs sometimes is that a husband has found the admiration he desperately needs outside of his marriage.
Contribute to the Learning with Your Reply:
What are some practical ways for couples to show respect for each other?
Often in marriages, with the passing of time couples stop showing appreciation and respect toward each other. Why do you think that is?