Page Highlights: expanded list of resources including a free pdf download of steps to finding a step family counselor
There are many special challenges with a second marriage and the formation of blended families – too many to adequately deal with here.
Below are a few typical areas of concern you can discuss just to get started.
But then, there are listed resources where you go much further depending on your special needs and interests.
If you are becoming a step-family, I strongly urge you to make use of some of the available materials.
1. Do either of you have concerns about the others previous marriage.
Interference from the previous partner
Child support or alimony
2. Have you thoroughly discussed your new home and lifestyle?
Will you have a place new to the both of you? Whose or which furnishings will you keep? How will your home be decorated?
3. What are the greatest challenges each of you expects in this relationship?
4. Are you in agreement regarding your children?
Who will make the rules for the children?
Who will discipline the children and how will they be disciplined?
Will your children's needs come first?
Here's a segment from Good Morning America with Steve Harvey talking to couples about his tough-love approach to making and keeping rules in his large blended family. Watch the video if you like, and discuss how you will make it work in your new family.
Resources for step families and remarriages:
The Smart Step-Family by Ron L. Deal (faith-based resource)
In the Smart Step Family, the author introduces 7 "smart steps" for families. For example, his second smart step is "adjust your expectations and learn how to cook a stepfamily."
I should explain the cooking your family part. It's simply a cooking analogy used to explain the different ways step families try to combine two families into one from the blender to the microwave approaches. Deal's recommendation is the Crockpot method.
Sound interesting?
Each chapter also includes questions for all couples, as well as questions specifically for premarital couples.
There's also a chapter in the book where the author answers typical questions and problems that step families face. Examples include dealing with an ex-wife who bad mouths her ex-husband and new wife and to dealing with bullying between step-children.
I have some personal knowledge of the author of this book and his family. Deal has conducted his step family seminars at my home church and knows how to help step families. You might check his schedule and luck up on a seminar near you.
New book for the marriage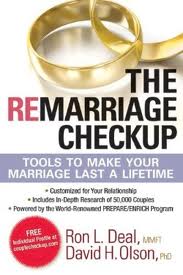 Deal has several books now, and most recently one that focuses on the remarriage itself.
It's called The Remarriage Checkup Tool: Tools to Help Your Marriage Last a Lifetime.
I like the emphasis in the material on "tools." I'm all about the practical. Each chapter focuses on an aspect of having a happy remarriage, and includes discussion questions. Chapter topics include remarriage finances, maximizing your fun, and beating the odds of divorce.
But there's more.
If you really want to dig, there's an online couple assessment associated with the book that you can take. It's based on the famous Prepare-Enrich inventory by Dr. David Olson. I received the training for Prepare Enrich early in my ministry, and used it regularly in premarital preparation with couples.
The inventory helps to pinpoint the strengths and growth areas of a relationship. I can tell you that it is an eye opener even for couples who've known each other a long time.
There is a fee for doing the inventory, but when you buy Deal's book, inside you will find a voucher for a free individual report or discount when done with your partner (that is, the full couple profile).
And the nice thing about it is that you can do this all on your own without having to meet with anyone in person or share your personal information with anyone.
National Stepfamily Resource Center
NSRC is a clearing house for information on blended families. This includes detailed scientific research and best practices, as well as the development of resources for families.
What I especially like about this site, and why I recommend it to you, is that it has geographical listings of local blended family support groups and clinically trained step family professionals.
Here's a quick PDF guide from NSRC for finding a step family counselor.
Blended Families with Emily Bouchard, MSSW
Why do I recommend this resource? Emily has been there and done that. She admits to suddenly becoming the proverbial wicked stepmother of two teenage step-daughters – and nothing she tried at first worked.
She thought that they all needed to go see a therapist and then realized, she was a therapist! Why couldn't she figured it out? Finally, something from her training came to mind and as a last desperation move, she tried it, and it worked!
Hallelujah. So she tried some other things as she found what was working, and so now her desire is to help others who find themselves with similar challenges to what she faced.