Beyond the standard vows and comments that a wedding minister or officiate may make about marriage in a wedding ceremony, here I present some ideas for other things you might add to your ceremony to make it especially meaningful to you.
And while you can find books and articles with a ka-zillion ideas, I'll stick with some basic categories and mostly things that I've seen in weddings.
The truth is, when it comes to weddings, most couples even in these sophisticated times, are mostly traditional when it comes to their wedding.
CEREMONIES WITHIN THE CEREMONY



I have standard comments that I make with these ceremonies within the larger wedding ceremony. You can search and find various scripts and choose one to your liking

Unity Candle

I'm sure you're familiar with the Unity Candle Ceremony. There are three candles, the big pillar candle in the middle, with a taper candle to each side.
Traditionally, the mothers light the taper candles when they are escorted in. Then, sometime during the ceremony, the officiate will say something along the lines of "two becoming one" and the couple will step over, each take a taper candle and light the pillar candle.
There are a lot of little things to make this ceremony go well, and an experienced wedding minister or wedding planner can help you with those.

Sand Ceremony

The wedding sand ceremony has become increasingly popular. The symbolism is very similar to the unity candle without having to mess with fire! It's especially a good idea to use this at outdoor weddings if you want a unity ceremony.

Just don't let the sand get damp! It clumps.

The Wedding Hands Ceremony

The Wedding Hands Ceremony is something that I've used for years, and many couples love it. And often guests come up after the wedding and mention that they have never heard it and would like to have a copy. People ask me if I wrote it. Unfortunately, no I didn't and I really don't know the original source. There are a few different versions of the Hands Ceremony, but this is the one I've been using: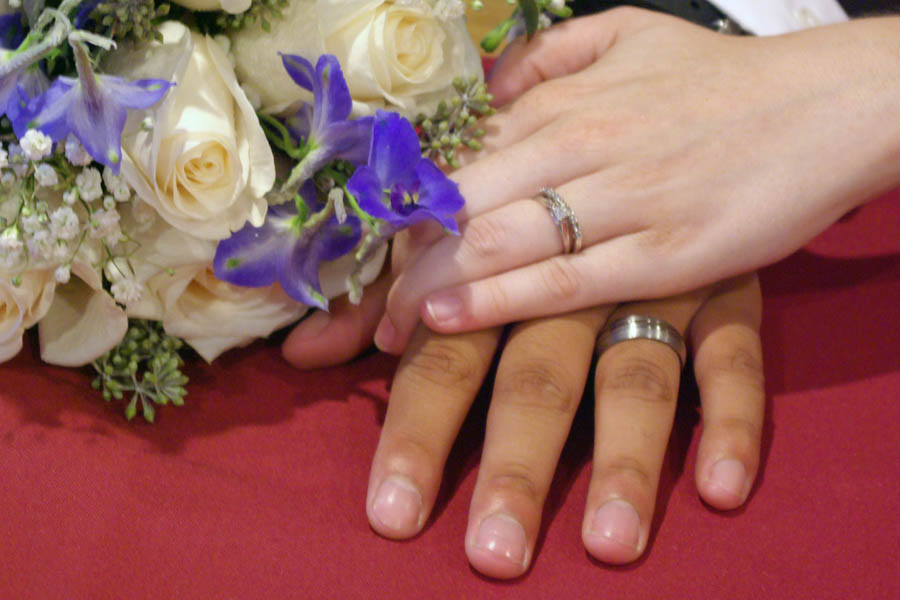 GR and BR would you please join hands where you may see the gift they are to one another.

GR, these are the hands of your best friend that are holding yours on your wedding day, as she pledges her love and commitment to you all the days of her life. These are the hands that will hold you tight as you struggle through difficult times. These are the hands that will comfort you when you are sick, or console you when you are grieving. These are the hands that will love you and cherish you through the years, for a lifetime of happiness. These are the hands that will give you support as she encourages you to chase down your dreams. Together as a team, everything you wish for can be realized.

BR these are the hands of your best friend that are holding yours on your wedding day, as he promises to love you all the days of your life. These are the hands that will work along side yours, as together you build your future, as you laugh and cry, as you share your innermost secrets and dreams. These are the hands that will love you and cherish you through the years, for a lifetime of happiness. These are the hands that will countless times wipe the tears from your eyes; tears of sorrow and tears of joy. These are the hands that will comfort you in illness and hold you when fear and grief trouble your mind. These are the hands that will tenderly lift your chin and brush your cheek as they raise your face to look into his eyes; eyes that are filled completely with his overwhelming love and desire for you.
INCLUDING FRIENDS AND FAMILY IN THE CEREMONY



Want to make some special people feel even more special by having them in your ceremony? Or, doing so can add a little uniqueness to your wedding rather than have one person (the officiant) do everything.
The typical things others do in a ceremony include:

Reading poems and other common wedding readings or bible passages
Having someone sing a romantic or spiritual song. I've also seen brides and grooms sing to each other during the ceremony.
Leading a prayer. This might be a grandfather for instance and can be very meaningful.
A couple of caveats:
It can be tricky including others. How do you decide who? And what if someone feels left out?
Make sure it will go over well. A singer off-key, or a reader who stumbles over words isn't what you want.
WAYS TO INCLUDE CHILDREN IN A WEDDING



How you include children in your wedding often depends on their age and personalities. The goal of course is to make them feel a part of the occasion and to feel good about it. You have to decide how to best do that given the goal and your children.
Here are some possibilities:
Present them a gift.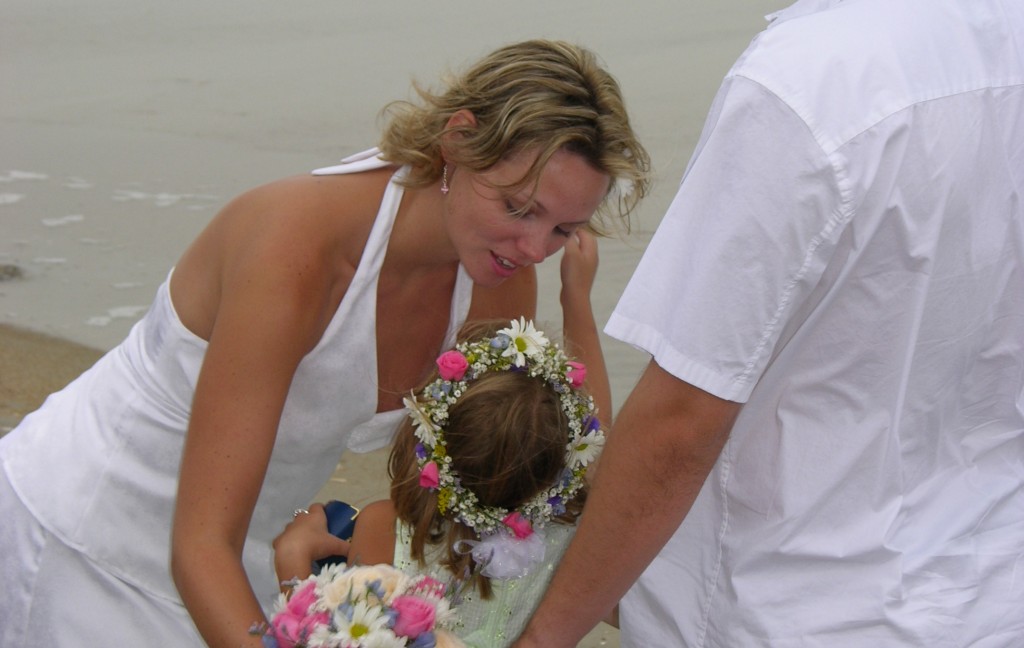 You may have heard of the Family Medallion given as a gift in weddings to children. I've probably seen that once and it was years ago. More often I've seen gifts like necklaces presented to girls. Gifts for boys are bit harder, and again depends on your child's age.

Vows to (by) the children

Parents can make promises to their children as well as to each other. Sometimes it is the adopting parent who makes the vows, or both parents may do so. Here are some examples from real weddings:
Jase, I promise to be a patient, loving father to you. I promise to care and provide for you as my own son. I promise to be your strength and emotional support and to love you with all my heart from this day forward.
Leslie and Kerrie, I promise to care and provide for you as my own daughter and son. I promise to be your strength and emotional support and to love you with all my heart from this day forward."
The parents can say their vows from notes on a card, or just speak from the heart.
And I've also seen the children say some "vows" to the parents. For children's vows, often the officiate will read something and have the child answer, "I will."

Reading

For an older child, doing one of the readings as mentioned earlier might be the perfect way to make them feel a part.

Ring bearers and flower girls

Of course, for younger children serving as a ring bearer or flower girl can make them feel very special, and people may make over them as much as the couple.
The Sand Ceremony

The Sand Ceremony listed earlier is a favorite with blended families and it's fun for the younger kids.
CHRISTIAN WEDDING CEREMONY IDEAS
Vows of the Christian home

Brad and Marie's marriage is the union of two Christians, who individually have committed their lives to the service of Christ and the glory of God. They've both come from homes that love God and seek to live for Him. Now that Brad and Marie are husband and wife, they wish to publicly declare their intent to establish a home that always seeks God's will and strives to honor Christ. This is the declaration they will make this day, before you and before the God they serve. Brad and Marie, will you depend on God for strength and wisdom, and pledge yourselves to the establishment of a Christian home. Together will you constantly seek God's will and honor Christ in your marriage?" Both answer, "We will."

Bible verses for weddings

There aren't as many passages in the Bible to read at weddings as you might think. While I believe it's all good, there are only a handful of verses that get used. Here are common ones:
Gen 2:22-25 (the beginnings of marriage in creation)
Ruth 1:16-17 (whither thou goest…)
Matthew 6:9-13 (the Lord's Prayer)
I Corinthians 13:8-13 (the love chapter)
Ephesians 5:21-33 (husbands love your wives as Christ loved the church)
Phil 2:1-5 (let this mind be in you which was also in Christ)
Colossians 3:12-14 (similar principles to the love chapter for those that don't want to use the love chapter.
You can check different translations of these verses and print them out at http://www.biblegateway.com/

The cord of three strands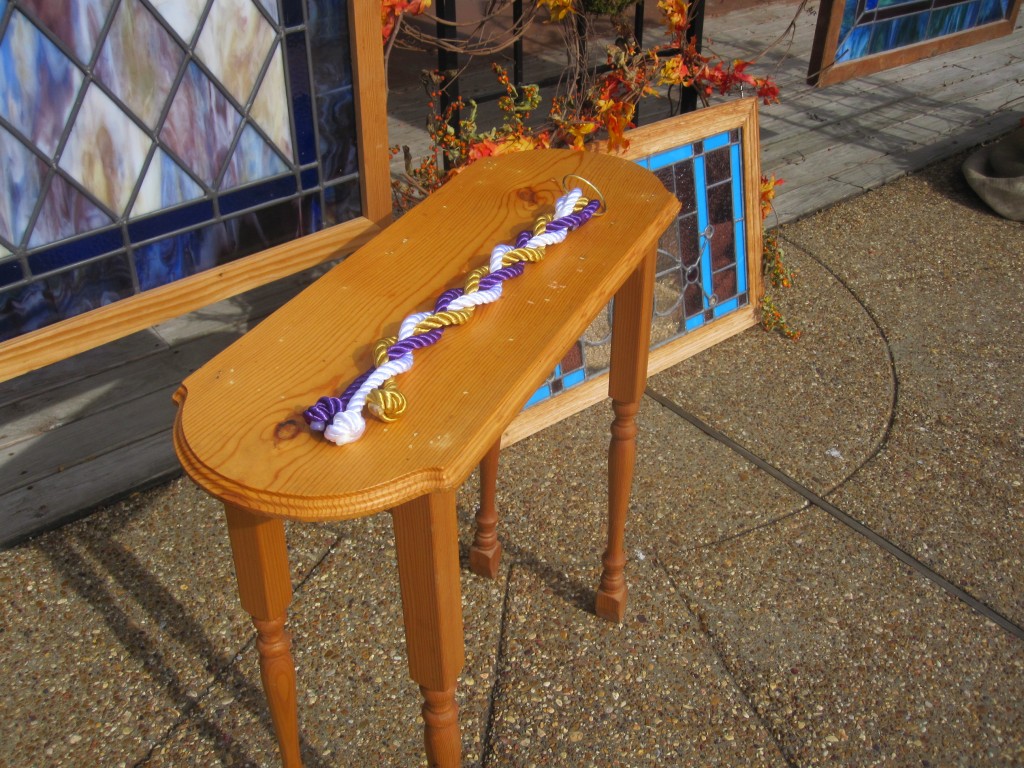 I just did a wedding recently with this ceremony, and here's a picture. In this case, we had a small table to set the strands on. The director called it the God-knot table! But you could also have someone holding the strands during the ceremony.
Here's a pdf you can download with different readings/meanings of the three cords of strand ceremony.
Declaration of Intent Vows

I don't see these vows too often. It's an extra set of vows that usually come at the very start of the ceremony that sort of states the obvious. But some couples do like it as it sets a solemn tone for the ceremony.

The covenant of marriage is one that can be entered into only by persons who are both legally and spiritually free to offer themselves to each other.  Therefore, in the presence of God and in the presence of all of the witnesses here, I will ask _________ and ________ to state their intention.  _________ and ________, have you come here freely and without reservation to give yourselves to each other in the holy state of matrimony?
OTHER WEDDING CEREMONY IDEAS:



Memorials to family members

If there are deceased members of the family, you may want to acknowledge them in someway on your wedding day. There are a few different ways to do that including:

Have their photos set up on a table at the reception
Have an empty seat at the ceremony and place a flower there.
Have a memorial candle at the ceremony and light it before the ceremony begins.
Have the officiate briefly mention something about the person(s). I usually say something right after welcoming the guests present, that today also on groom and brides minds and hearts today is _____________. While not here physically today, they believe they are here in spirit." Of course, you can write up something that fits perfectly for you.

Writing your own vows – see 3 Ways to Write Your Own Wedding Vows: The Easy 2-Step, Uniquely-Us, or Go-Pro
Ring vows Response: (in addition to the traditional ring vows, each person can "respond" to the gift of their ring)
This is an example from a second marriage ceremony. You of course, can write your own.
"As I take this ring from you, I promise to never forget the feelings we have for each other at this moment. I promise to not make the same mistakes I have in the past. I promise to remember the night I looked into your eyes and realized I was falling in love with my dear friend. I promise to respect you and honor you in all things. I promise to be yours.
Parent or whole assembly vows

Here's an example of parent vows:

The officiant says, "'Life without love is like a tree without blossom and fruit.' With that thought in mind, we turn for a moment to the parents who have given so much to these two through the years. (Groom's parents) and (Bride's parents), you have great joy in your hearts today. You've watched your children grow up, so fast it seems. You've watched them mature and develop in spirit, in emotions, in knowledge and in wisdom. You've watched as they have entered into this relationship with each other and seen their love grow. You've cried, laughed & realized many of your dreams come true for your children. You've prayed and provided guidance to help them become the people they are today. You've expressed your love for them in countless ways over the years, and now today do so again by pledging your continued love and support. If you indeed commit yourself to loving & supporting (groom and bride) in their life together as husband and wife, will you now acknowledge so by saying "we will?"

You can also look for similar statements to be read so that the whole assembly can respond.

Ring warming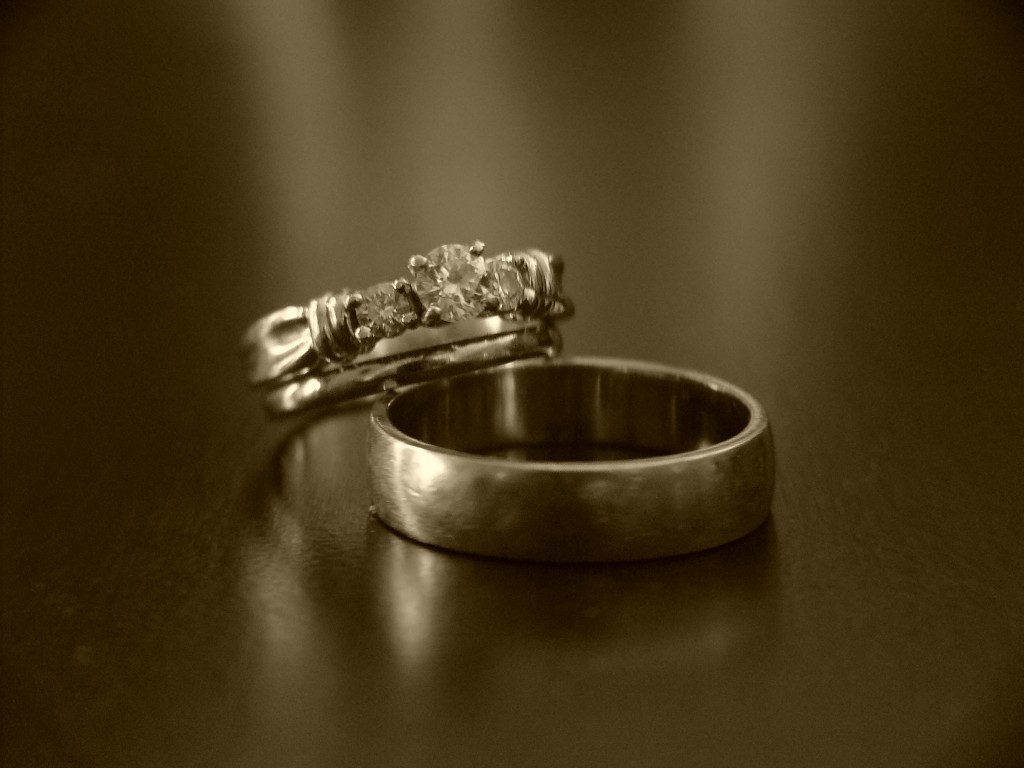 This is one way to involve everyone but really only works for smaller weddings. The wedding rings are passed around at the start of the ceremony and each guest holds the rings a few seconds and silently says a prayer or blessing over the rings for the couple. If you have too many guests, you might not get your rings back in time!

The Rose Ceremony

Done after the presentation of the bride, this is usually a surprise for the moms and gets them crying early!
Today, as David & Terri embrace one another in love, so do they also embrace their families, whose love & nurture has brought them to this time in their life. As a token of their love for their families, GR & BR would like to offer these symbols of eternal love, these roses to their mothers, Connie & Janice. 
Seen some neat things at wedding? Tell us about them in the "Reply" box below.