Page highlights: fun and free 5 minute personality "test"
If you are familiar with the Myers-Briggs Personality Test or similar personality tests, you are familiar with the 4 personality types.
Personality differences are very important areas of concern in relationships, and can be key red flags in a relationships requiring some professional intervention.
Especially is this true of personality disorders – think borderline personality disorder and narcissistic personality disorder as examples.
Further, personalities are often used as the basis for dating services as a key element for matching people up.
However, for this exercise we are more narrowly interested in how couples communicate and express their love to each other given their personalities.
The Exercise: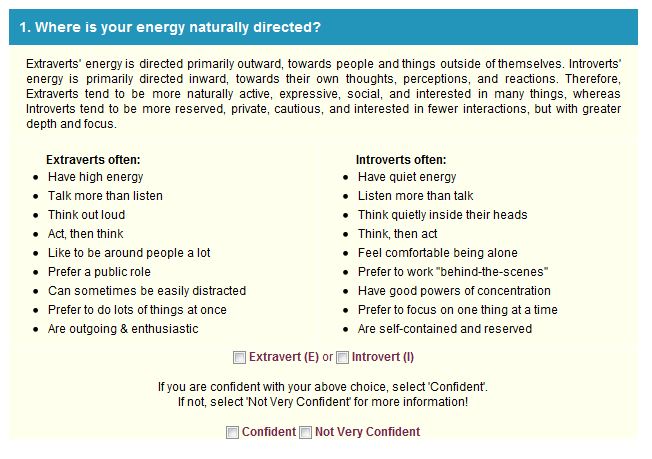 The following exercise is one I often hear couples say they really enjoy and find fun.
You can do a 5-minute free personality test online that tells you:
how to best show love to your partner and,
how to communicate to your partner given their unique personality.
We tend to want to love and communicate to our partner in the way we like, rather than the way our partner likes.
This exercise will help you see things from the perspective of the other person – talking to them and loving them in a way that makes sense to them.
Go to the link below for the free personality quiz:
www.personalitytype.com/quiz.asp
The site does not ask for any of your personal contact information to use its free personality quizzes!
Resources:
If you are looking for something more than very basic quizzes about personality, there are other tools to examine personality issues in a relationship.
A licensed therapist can help you, though others like myself have used tools like Prepare-Enrich and FOCCUS (Facilitating Open Couple Communication and Understanding) in premarital counseling to explore personality factors. These are both inventories that couples complete, the responses are "scored" and the results sent back to the administrator to use in discussions with the couple.
There are ministers and counselors all across the country trained to use these tools, and unless you live in the boonies, you can probably find one near you.
Yet another resource for the truly brave can be found at www.humanmetrics.com/ This is the Jung Marriage Test and costs $6. It uses the MatchIndex which is used to determine couple compatibility.
A MatchIndex score of less than 62% suggests a not so promising outlook for a successful long-term relationship. You should visit the site itself for a fuller discussion of this tool.