Well, this is a common approach for dealing with problems with in-laws!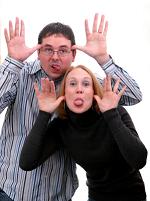 However, it's not one I advise.
Here are some better approaches:
The Exercise:
Set Some Goals:
You need to be intentional about your relationship with your family.
Describe the kind of relationship you want with your extended family.
Looking at Differences
Extended families bring together diverse people with differing expectations for family.
Discuss your families' differences in terms of: generational gaps, geographical factors (city vs. rural), financial levels, and spiritual / religious viewpoints
As you think about the above, what is the difference between acceptance and agreement?
How will you work to bridge generation & value gaps?
What does it mean to you to love someone unconditionally?
Who do you clash with most in your extended family? Why? What are the strong points of the person you clash with?
Try re-framing negative qualities: meddlesome becomes concerned, and bossy becomes shows leadership
When There's Tension
Talk about how you will keep lines of communication open even when relationships are strained.
What is your plan for remaining calm if an antagonistic family member tries to draw you into an argument?
How will you respond when you are given unsolicited advice?
How will you deal with contentious subjects?
You know what your complaints are toward your future in-laws. Now consider the major complaints that your in-laws have toward their children-in-law, and how you can respond to them in a positive way: Some examples: they view you as indifferent, distant, thoughtless, inconsiderate, or too busy to be interested in their parent's lives
Keeping Things Positive
What can you do to promote harmony when the family is together?
What fun things can you do with your extended family that will help strengthen relationships?
Boundaries
How will you know when extended family issues are affecting your marriage and what will you do about it?
What are the boundaries for your immediate family and how will you communicate those to your extended family?
When you have to be direct & forceful with extended family: Who should do it? When should it be done? How should it be said?
Resources:
__________________________________