Your wedding is a special day, and it is understandable that you want to make everything as perfect as possible. Which is why the question of whether or not to have young children at weddings is a good idea comes up. And if you do decide to include them, how do you make certain that they have fun, and at the same time don't cause an interruption or disturbance to the wedding and reception.
I've talked to a lot of couples who want to know the best invitations wording for no children at weddings. Luckily, there are options for you so you don't have to offend guests by telling them to leave their children at home – yet still ensure that your wedding goes as planned without screaming kids running around.
While I would agree it is traditionally the parent's place to keep their children in line during a wedding ceremony, there is a way to free up the parents to enjoy the wedding and make certain that their children don't disturb the wedding ceremony or reception activities.
How? By providing a daycare or nursery for pre-school aged children.
This of course would entail hiring someone to act as the nursery attendant (or attendants) and having a room in the church or other wedding venue set aside for the small children in which they can be cared for.
There are professional businesses that provide child care services for events, or you could hire people you know in a more informal way. Either way, this can be a great relief for parents of small children who cannot afford a babysitter but who wish to come to the wedding.
Planning the Logistics
At churches there is usually a nursery already available – if you make arrangements with the church office to make use of it.  Many reception halls also have rooms that could be used as a nursery if you make prior arrangements.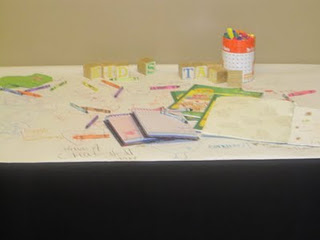 When it comes to the reception, you can always make allowances for the younger children by hiring someone to organize activities for them in a tent or room separate from (but close to) the reception.  From face-painting to magic shows and jugglers, you can make this as special of a day for the kids as it is for the adults.
There are also what are known as wedding activity packs for children with all that would be needed to keep the kiddos entertained.
If separating the children during the reception is not an option, consider arranging for individuals expert in things like balloon animals or magic tricks to make the rounds of the tables where there are children and entertain them while they wait for the party to get started.
Don't Let Them Go Hungry
One of the main problems with children at receptions – especially small children – is the long wait for the food while the bride and groom are getting their pictures taken.
Make sure that there are plenty of finger foods available at each table that has small children – maybe even coloring mats (like you see at restaurants) as well as things like pretzels and small bottles of juice or soda that they can eat while they wait.
You can even arrange for a separate dining area just for the kids – with small tables and chairs, kid-friendly food, and things like sodas and cookies that will keep them occupied while they are waiting for their meals.
Maybe you can even create small "appetizer boxes" for each place setting for a child.  The boxes can contain things like a packet of chips or crackers, a juice, a cookie, and a small box of crayons and a pad of paper.
Your wedding is your special day, but don't risk alienating your family and friends by not allowing them to bring their children.  It will require some extra planning, preparations, and even expense, but the end result is a wonderful wedding ceremony with everybody happy.

This article was written by Sarah Rigos, founder of the online cash registry Starlight Registry.