Below is my new infographic that I created to give a visual presentation of the process of getting your TN marriage license. Hope you find this helpful, along with the more detailed written descriptions that follow below the image.

Text version with additional details:
How do you get a marriage license? Glad you asked. Believe it or not, I've had people call me (it seems like it's always after I've gone to bed) and ask "Can you get married without a marriage license?" The only answer I know to that is "no, you can't." And in my state, Tennessee marriage laws do not recognize common law marriages.
I am finding that the marriage license requirements do vary from state to state and even within states in different counties. Not only that, but the rules can change at the drop of a hat, so what you read on a website could be out of date.
So my general advice to couples is to always check with their local county clerk's office, or whoever issues marriage licenses in their state.
Having said that, I can give you some basic information here on applying for a marriage license and some tips that you might not find elsewhere.
Since many couples using my online marriage prep course are from Tennessee, I'll start with information on getting a marriage license in Tennessee. As time goes on, I'll add links below, resources and information about licenses in other states.
Getting a Marriage License in Tennessee
The General Rules:
You must get the marriage license before the wedding ceremony not afterward.
You get a marriage license from a county clerk's office, and it's usually the same location where you get your car tags. This is likely not the court house.
To get married in Tennessee, you must have a TN issued license. You can get it in any county, and use it anywhere in the state. So you could get a marriage license in Memphis, Tennessee and use it in Knoxville. You get the idea. Get it wherever is most convenient.
The license expires in 30 days after being issued and cannot be used, so you must get it within a thirty day range of your wedding date.
Both bride and groom must go together to get the license.
You must go with proof of your Social Security number (if you've been issued one) and proof of your date of birth (because you have to be at least 18 years old) with a government issued photo ID or certified birth certificate.
There is no blood test required or waiting period to get the license.
A TN license costs about $100 depending on the county, but a couple can get an exemption for a $60 fee if they complete at least four hours of a marriage preparation course within a year of their wedding date.
To double check these details and for other questions you may have, you can call your county clerk's office. Find addresses and phone numbers at Tennessee county clerks offices.
Some Tips You Might Not Find Elsewhere:
Get a great looking keep-sake marriage certificate: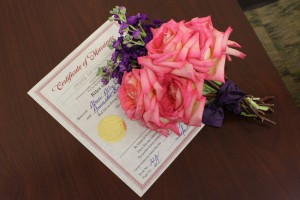 As mentioned earlier, you can get your license anywhere in the state. However, having seen marriage licenses from a couple dozen or so counties, I can say that Davidson County has the nicest looking Tennessee marriage certificate. It would look nice in a photo frame or wedding album.
Not all counties even have a keepsake copy.
But the one provided in Nashville is on parchment type paper and the couples names and other information is printed on in calligraphy.
If you are getting married in or around Nashville, and that kind of thing is important to you, you might want to go to the Davidson County clerk's office.
Save time at the clerk's office:
Couples tell me it only takes about 10 minutes to get a marriage license if no one is front of them. It's way to easy to get a license in this state! But if you want to save even more time, you can download the Tennessee marriage license application and complete it beforehand.
At that same site, you can download an application for a certified copy of your Social Security card should you not have yours.
What to ask the clerk when you get your license:
Some Tennessee counties automatically mail the couple a certified copy of their marriage license once the officiate mails it in. Some don't and you have to call or go back in to get it. So, when you get your license ask, "Will you send us a certified copy?"
To complicate matters even more, a few counties provide a certified copy for the officiate to sign the day of the wedding and leave with the couple. The Shelby County Tennessee marriage license is one example.
So again, ask.
As I understand it, if the bride is changing her name, she must have the certified copy of the marriage license for her driver's license and social security name changes.
Take your marriage license to your wedding:
That sounds obvious, right? But it happens all the time. In the rush and madness of getting ready for the wedding, couples run off and leave their license behind. In Tennessee, the license has to be returned within 3 business days – or there's a fine. So there is urgency to the officiate signing and returning the license.
So put it on your list. If you have a wedding planner, get it in her hands as quickly as possible, and she will get it to the officiate.
In Tennessee, you sign the license when you get it, so you don't have to sign it the day of the wedding. In fact, there is no other place for you to sign it. And while there's a place for a witness to sign, it is not required that one does sign.
The officiate should complete the license and mail it in for you.
An Aside

This whole thing brings to mind a question I get asked a lot. "When is a couple actually married?" Is it when they get and sign the license? Is it when the officiate pronounces them husband and wife? Is it when the clerk receives and records the license?

I never really was sure of the answer, though I figured it was the wedding ceremony that made it official. I recently officiated the wedding for a county official from east Tennessee and we were discussing this question. He told me that the way the statute read, the couple is married once the ceremony takes place, there are vows exchanged and a pronouncement of marriage is made.

Now I haven't read the statute and I'm just repeating what I understood him to say. And I don't know that there are certain exact words that have to be said in a ceremony to make it a legal marriage. But essentially it is the ceremony, and once done, that groom and bride are husband and wife.

This man I was having the conversation with told me of a judge friend of his who performed a wedding for a couple, and later than afternoon the couple called him and said they decided they didn't want to be married! He explained to them that they would need to contact a divorce lawyer because they were in fact married.

Moral of the story: make sure you mean it before you say "I do!"

Other common information couples getting married in TN look for:
If you are from out of state and are traveling to Gatlinburg to get married, you might want to check out this information on getting a marriage license in Gatlinburg, Tennessee.  There you will find a marriage license pre-application you can do online, and then pick up your license at one of three Tennessee marriage license centers when you arrive.
Memphis Shelby County marriage license information
Knoxville Knox County marriage license information
Sevier County marriage license information, including information on getting the Tennessee marriage license online
Chattanooga Hamilton County marriage license information
Since repetition is the first law of learning, here's a video I put together a few years back about getting your marriage license:
This guide to getting a marriage license was written by Ralph Griggs.