Page highlights: extensive list of questions to explore in 12 key relationship areas
While it's good to have comprehensive pre marital preparation, it's important too to focus most of your effort on the areas of most concern.
That will vary from couple to couple. While some things are basics and everyone needs to do some work on – like communication and conflict resolution skills, couples will differ on specific issues that they need to work through before marriage.
And this is the best way to apply those communication skills you are learning.
This exercise is designed to help you pin point those key issues for you.
Its fun to learn of your relationship strengths, but it's most helpful to identify the areas where you could use some improvement and center in on those.
The Exercise:
Below are 12 key areas of relationships.
Each of you look through the list and decide on 3 that you believe are the strongest areas in your relationship right now, and decide on 3 that you believe have the most room for improvement right now.
Mark a "S" beside the 3 strongest areas and a "I" beside the 3 that you believe needs improvement.
Whoever goes first, be sure your responses are covered so your partner can't see what you have marked (or print two copies of this page).
When you both are finished, take a look and see if you marked most of the same areas.
Discuss any differences, and what you were thinking when you marked what you did.
She says (left side) and He says (right side)
___ communication skills ___
___ resolving conflicts ___
___ expectations of marriage ___
___ money matters ___
___ shared recreation activities ___
___ children & parenting views ___
___ extended family issues ___
___ husband / wife roles ___
___ family backgrounds ___
___ religious views & practices ___
___ personality concerns ___
___ sexual relationship issues ___
There is a list of questions a little further down this page for each of the above relationship areas to help you get started in a discussion of the areas each of you decided were areas for improvement.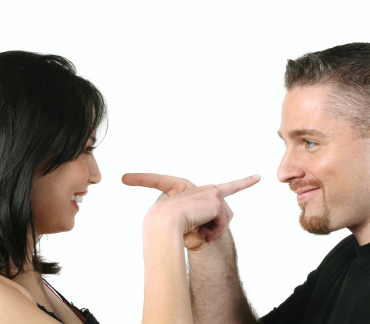 While you may have discussed many of these areas in your courting, this exercise provides an organized approach to help you focus on the most important things you need to talk about right now.
NOTICE! This is a fun & helpful exercise.
Should you hit some bumpy spots, remember to practice good communication principles like these:
Let your partner be honest with you. You don't have to like or agree with what you hear, but negative reactions cause your partner to shut down. These reactions could include defensiveness, anger, put-downs, and threats.
Listen. Give your partner the time they need to express their viewpoint & seek to truly understand. Ask questions, & put in your own words what you hear said.
Speak to each other in a normal tone of voice.
Remember the goal is to strengthen your relationship. This will enable you to work together toward solutions.
You might also want to re-read the conflict management skills.
Below is the list of questions that you can use along with the

What We Need to Talk About Now Exercise
Look especially at areas each of you mark as areas for improvement, and each of you mark questions you believe you need to talk about now.
Communication Skills
The amount of time we have to talk
Differences in our communication styles
What I/you do when we have trouble communicating
The topic hardest for me to discuss with you is:
My/your ability openly & fully express ourselves
My/your tendency to use put-downs
My/your lack of being a good listener
My/your honesty
My/your tendency to become quiet
My/your tendency to interrupt
My/your tendency to dominate the conversation
My/your lack of interest in what I say
What we talk about most of the time
Our acceptance (or lack) of what one of us says
Becoming negative in our communication
Keeping secrets
Need to find someone to help us communicate better
Resolving Conflicts
Our general ability to resolve conflicts
My/your tendency to give in too quickly
My/your need to be right & get my/your way
My/your tendency to say one thing, then do another
My/your getting upset over trivial things
My/your lack of taking issues seriously enough
My/your not saying enough
My/your talking too much & not listening
My/your avoiding dealing with conflict
My/your ability to share feelings/thoughts
My/your ability to accept other's feelings/thoughts
Our unresolved issue of:
An issue we have not discussed is:
My/your getting angry too much
My/your saying hurtful things
Need to find someone to help us resolve conflicts
Who has to have the last word
Will we ever discuss our conflicts with friends/family
Ever air differences in public / in front of our children
Our ability to compromise
Expectations in Marriage
My/Your expectations of our marriage
Do you expect me to meet all your needs
What happens if unexpected problems come our way
What do we believe about commitment in marriage
Are you going to try to change me
How we view romantic love in a marriage
Money Matters
Our expenses & can we pay the bills
Who will "keep the books."
When & for what will we borrow money
Are we going to keep a budget
Will we have credit cards & for what use
Current debts one or both of us have
Will both of us work now, or later
Move if one of us received an offer of better pay
Will we have separate banking accounts
Each others spending habits
When do we need to consult with each other before spending money
How much of our income will we save
What we will save for
Would we ever lend money to a friend/family member
Would we ever borrow money from a friend/family
Will we shop for discounts
How much will we spend on fun stuff
How important should money be in our thinking & lives
Shared Recreational Activities
What we will do for fun
How much time you spend away from me
Our balance of work and play
Number & kind of activities we both can enjoy
This is something I'd like us to do together:
This is something I'd like to do with others:
I'm concerned about the money you spend on this activity:
Children & Parenting Views

Birth control
When we will have children
How many children we will have & spacing
How we will nurture our children
How we will discipline our children
Who will discipline our children
Private, public, or home schools for our children
The role of the father
The role of the mother
If we discover we can't have children, what then
Value we'll place on spending time with our children
Value we'll place on showing affection to our children
Value we'll place on family mealtimes
Will one parent always be home with the children
How parenting will affect our marriage
Extended Family Issues
How supportive our friends/family are of our marriage
How your family feels about me
How my family feels about you
The time you spend with your family/friends
Family members that nose into our business
A family member/friend of yours that concerns me is:
A family member/friend of yours that I really like is:
How close/far away we'll live from our parents
Will we accept/ask for financial help from our parents
How we will decide where to go for Christmas
How you speak to/treat my family
What happens if one of our parents needs special care
Husband / Wife Roles
Will we both work outside the home
Our division of labor at home
How we will make major decisions
My/your role as father
My/your role as mother
Who will keep up with the money
Who will do the yard work
Who will keep the house clean
Who will help children with homework
Who will discipline the children
Family Background Similarities/Differences
How much time our families spent together/apart
How our families express their love to each other
How decisions were made
How children were disciplined
Who disciplined the children
How conflicts were handled
Who did what (roles)
The stability of our parent's marriages
How holidays & birthdays were celebrated
What we did for vacations
What we did on weeknights
The time our parents spent together alone
The way children were taught about money
How crises were handled
The place of religious faith in my/your family
The person I like most in my/your family is:
The person I like least in my/your family is:
Family secrets
What we can learn from our families, good or bad

Religious Values / Practices
Our views on the importance of spiritual life
The role of our spiritual practices in our relationship
How our faith will help us deal with problems
How active we will be in a church
What I/you believe about:
A non-negotiable belief/practice for me is:
What we will teach our children about:
How our parents will feel about our choices in faith practices
Our devotional time together as a couple
Our devotional time together as a family
What the Bible teaches about marriage, husbands & wives
How much we will give to our church
What we will do about any religious differences
Our difficulty in discussing religious matters
Our need to discuss our viewpoints with a minister

Personality Concerns
My/your stubbornness
My/your temper
My/your honesty
My/your jealousy
My/your moodiness
My/your bad habits
My/your domineering behavior
My/your negativity
My/your ______________________
Sexual Relationship Issues
Your expectations of me sexually
What I need from you sexually
Sexual acts I am not comfortable with
Amount of affection in our relationship
Our method of birth control
Previous sexual experiences and/or abuse
My comfort level in talking to you about sex
How often we will make love
Concerns or fears I have about sex
What sex means to our relationship
Male / female viewpoints in regards to sex
How I feel about my body/sexual attractiveness
Using sex as a punishment or reward
Should the man always initiate sex
Can we be affectionate without sex
Still Something Else to Talk About?
"These are some other things I'd like for us to discuss
that were not listed anywhere above" ­­­­­­
His:
Hers:
Resources: There are more formal tools including personality tests for couples that you can use if you want a more scientific approach and a trained facilitator to work through the results with you.